Airlines such as American and Delta contract out certain passenger services like cabin cleaning and wheel chair assistance to companies like Eulen America. Recent investigations into Eulen reveal serious problems with that company in East coast airports.
A recent Miami Herald article reported the results of its  investigation into working conditions Eulen America workers encounter at Miami International Airport[i]:
Cabin cleaning trucks filled with cockroaches. Break-less shifts on the overheated tarmac. Broken equipment held together with plastic bags and makeshift ties. Retaliation from management for speaking out.
These are some of the unsafe conditions that ramp workers and cabin cleaners for Delta and American Airlines' subcontractor Eulen America, a Spanish company, face at Miami International Airport, an investigation by Miami Herald news partner CBS4 has found.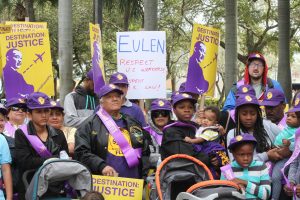 (Eulen workers and supporters protest in front of Eulen's Miami office on Dr. Martin Luther King, Jr. Day in 2016.)
Eulen's potential turbulence extends beyond Miami, occurring up and down East Coast airports:
The National Labor Relations Board (NLRB) has investigated charges against Eulen for alleged violations of the National Labor Relations Act at three different airports (Fort Lauderdale, Ronald Reagan Washington Airport, and JFK International Airports). NLRB Region Directors found sufficient evidence that Eulen unlawfully fought workers' organizing to improve their conditions and filed formal complaints against the company. While Eulen has refused to admit it broke the law, it has agreed to settle most of these complaints.  The settlements included Eulen's agreement to pay employees back wages, repeal work rules, and post notices at work sites stating Eulen will not interfere with workers' right to organize.  In one pending case, Eulen is appealing the NLRB's determination that Eulen violated federal labor law when it fired a worker and refused to rehire her because she engaged in activities in support of the union.
Eulen has an alarming history of wage and hour claims filed by its employees in Florida and New York for alleged failure to pay overtime and alleged wage theft. Despite Eulen's denial of the allegations, many of these claims have culminated in settlements.
Airlines and airports should closely consider the company's troubling track record before retaining Eulen America's services. And, airline and airport executives should audit and investigate any Eulen America operations at their sites for any potential issues before turbulence hits.