Airlines for America (A4A), the largest lobbying organization for the US airline industry, presents itself as a benign organization focused on publishing dreamy photos of airplanes and sunsets.  In reality, A4A is a powerful political force, representing multibillion corporations like United Airlines, that is working hard to oppose or roll-back protections for airline passengers and the workers who serve them at our nation's airports.
So, what is the agenda of Airlines for America and its member airlines?  A4A enthusiastically supports the Trump administration's roll back of long standing consumer and worker protections, calling it "a much-welcomed shift from a decade's-long Washington practice of regulatory interference in the market," according to the LA Times.
Airlines for America is calling for the repeal or modification of more than 30 regulations implemented to protect consumers or workers.[i]  Among the proposed rollbacks is a rule that requires airlines to give passengers the option to get off domestic flights if its delayed and sits on the tarmac for 3 hours.[ii]  The rule also requires passengers be given water and access to the bathroom. The rule was created after a number of highly publicized cases where passengers were trapped in planes for up 8 hours,[iii]sometimes without adequate bathroom access or water.[iv]  Airlines for America has called the commonsense rule excessively rigid and the fines "overly punitive."[v]
Airlines like United Airlines, through their lobbyists at A4A are spending big bucks to curb regulations and further enrich airlines, who already have billions in profits, at the expense of working Americans and the flying public. Since 1998, it has spent more than $96 million on federal lobbying[vi]– and will almost certainly pass the $100 million mark this year after spending more than $3.3 million on federal lobbying in the first half of 2018 .[vii]
Paul Hudson, President of FlyersRights.org, a passengers' rights advocacy group, stated it bluntly, "The airlines are pretty clear that they want every consumer protection law repealed or not enforced.  I'm concerned that they would try to repeal the few consumer-protection regulations that are out there."[i]   Already, the powerful and profitable airline industry is working to repeal basic rules that:
[i]http://www.latimes.com/business/la-fi-trump-airline-regulations-20180318-story.html
requires airlines to advertise the full cost of the ticket.
gives passengers the right to cancel and get a full refund within 24 hours after booking a flight.
requires airlines to inform passengers how to file complaints with a federal agency – A4A claims, laughably, that this "displaces other information carriers wish to convey to their customers."
require airlines to report the loss, injury or death of animals on the plane on a monthly basis– despite the fact that the number of animal deaths on United Airlines doubled between 2016 and 2017.[ix]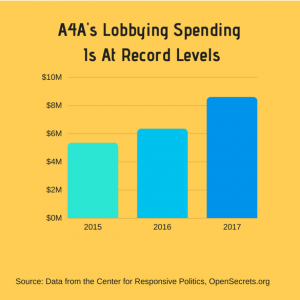 The airline industry isn't stopping there: they are also lobbying to reduce protections for passengers with disabilities who request wheelchair assistance. Airlines are required to provide this assistance under the Air Carrier Access Act, but  theairlines are seeking to suspend enforcement of a requirement that airlines provide wheelchair assistance to passengers with disabilities promptly, until the term "promptly" is clarified.
A4A has long opposed regulation of airline seat sizes[x], which have been shrinking as airlines try to squeeze as much profit as possible out of every ticket purchase. Passenger groups have raised concerns that the cramped seating and tight rows were unsafe in case of an evacuation, but despite Congressional concerns and a federal judge's criticism of the FAA's "vaporous record" of testing the new seat sizes for safety, the FAA announced recently that it will not regulate seat size on airplanes.[xi]  At a recent aviation industry conference A4A CEO Nick Calio assured the audience that he had "sent out some of our administrative assistants to ballparks [and] theaters" and that the seat sizes and pitch were, in some cases, worse than airline seats. "You can't have your cake and eat it too," he said.  Of course, Mr. Calio ignored the fact that attendees are not trapped for hours in their theater or ballpark seats, while sitting on the tarmac.
Airlines aren't just making things uncomfortable for passengers, they're also leading the charge to undermine standards for and silence the voices of airport workers. After airport workers organized to bring attention to the impact of decades of wage cuts on turnover and standards, many local governments and airport authorities have adopted policies at their airports that raise wages and make it easier for workers to join unions. A 2017 Economic Roundtable report found that if all US airports raised wages  to at least $15/hour, it would give nearly 250,000 people a raise  and would stimulate $3.7 billion in added local sales. Rather than recognize the urgent need to improve wages for airport workers, Airlines for America has dispatched its fleet of lobbyists to oppose policies in Los Angeles,[xii]Chicago[xiii], Miami,[xiv], Washington DC[xv], New York and New Jersey and many other places.[xvi]   These policies were later adopted, in some cases unanimously by City Councils that recognized the need for minimum standards at their airports.
Airlines for America has routinely threatened or brought legal action against voter-approved mandates to raise wages for airport workers, who are largely people of color or immigrants. So far, these lawsuits have had little success. Airport workers continue to organize and demand safe, decent job conditions through SEIU's Airport Workers United, and around the world.
[i]http://www.latimes.com/business/la-fi-trump-airline-regulations-20180318-story.html
[ii]https://www.transportation.gov/individuals/aviation-consumer-protection/tarmac-delays
[iii]http://www.cnn.com/2007/TRAVEL/02/15/passengers.stranded/index.html
[iv]http://www.nbcnews.com/id/34510274/ns/travel-news/t/feds-come-aid-stranded-air-passengers/#.W4BuuC7waUk
[v]https://engineering.dartmouth.edu/news/study-tarmac-delay-rule-just-makes-things-worse
[vi]https://www.opensecrets.org/orgs/summary.php?id=D000000545&cycle=A
[vii]As of August 17, 2018, OpenSecrets.org reported that Airlines for America has spent $3,340,000 on federal lobbying.  https://www.opensecrets.org/lobby/clientsum.php?id=D000000545
[viii]http://www.latimes.com/business/la-fi-trump-airline-regulations-20180318-story.html
[ix]https://www.marketwatch.com/story/united-airlines-had-the-most-animal-deaths-on-domestic-flights-last-year-2017-04-26
[x]https://abcnews.go.com/US/congress-considers-weighing-airline-seat-sizes/story?id=36862317
[xi]https://www.usatoday.com/story/news/2018/07/03/faa-airline-seating-regulations/755707002/
[xii]http://clkrep.lacity.org/onlinedocs/2015/15-0817-S1_pc_3_9-19-17.pdf
[xiii]https://chicago.suntimes.com/business/airport-living-wage-of-13-45-an-hour-ready-for-take-off/
[xiv]https://www.miamiherald.com/news/local/community/broward/article1978839.html
[xv]https://www.washingtonpost.com/local/trafficandcommuting/contract-workers-at-national-and-dulles-look-to-2017-for-a-wage-increase-win/2016/12/29/6d87eb12-c3a2-11e6-9578-0054287507db_story.html?noredirect=on&utm_term=.ccb207a943d5
[xvi]https://corpinfo.panynj.gov/files/uploads/Wage_Policy_-_SUPPLEMENTAL_-_Comments_submitted_via_email_-_ALL_COMMENTS_-_7.31..pdf